Tipping bucket shoe cabinet: tidy storage, easy travel

Are you annoyed by the lack of a proper storage solution for your shoes at home? Let us introduce you a practical piece of furniture - a dump shoe cabinet, which will help you organize your shoes effectively and make your home more orderly.
Functions:

Multi-Layer Tipping Bucket Design: The tipping bucket shoe cabinet adopts a multi-layer design, and each layer of tipping bucket can be opened independently. This means you can organize your shoes into categories so you can easily find what you need without clutter.
Utilization Of Compact Space: The design of the dump shoe cabinet takes into account the efficiency of space utilization and maximizes the storage space. No matter the size of your home, there's a place to fit it.
Simple Appearance: The simple and elegant appearance of this furniture fits into various home styles. Whether your decor is modern, traditional or Scandinavian, the dump shoe cabinet will complement it.
Easy Access: Each dump bucket opens easily for easy access or storage of your shoes. Get the footwear you need when you need it, without digging through your entire closet.
Multifunctional: In addition to storing shoes, the top of the dump shoe cabinet can also be used as a platform for temporary storage of items. You can put bags, keys and other small items on it, which is more convenient.
Specifications
Overall 

Size

19.7"H x 23.6"W x 13.4"D
19.7"H x 31.5"W x 13.4"D
19.7"H x 39.4"W x 13.4"D
Weight
33.1lb / 45lb / 56.8lb


Material

Environmental protection E1 paint-free board & High resilience sponge cushion


Product Care

wipe with damp cloth


Packing Included

5 layers of corrugated cardboard


Product Warranty

1 Year Manufacturer Defects + Parts Only Limited Warranty


Assembly Method

Manual Assembly
Discover Astonishing Space Saving.
Prepare to be amazed as your home undergoes a remarkable transformation. This shoe cabinet is a hidden gem when it comes to optimizing space, leaving you with more room to breathe and live.
The ingeniously designed flap door doesn't just hide shoes; it conceals clutter and ushers in an aura of elegance. Your hallway will radiate with pristine cleanliness, making a striking first impression that captures the essence of sophistication.
Tailored for Family Comfort
Say goodbye to shoe storage woes with this meticulously designed shoe cabinet, tailor-made for your family's needs. The inclusion of a cushioned storage bench not only offers a practical solution but also introduces a touch of decorative charm to your entryway, foyer, mudroom, or even your cherished laundry room. This cabinet doesn't just organize shoes; it elevates your space with convenience and style, serving as a testament to thoughtful functionality.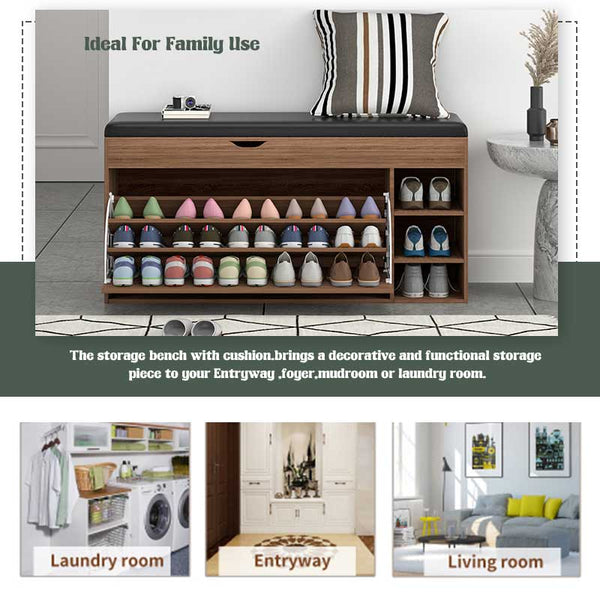 Ingenious 3-Tier Shoe Cabinet Creation
A symphony of spaciousness awaits as our shoe cabinet design unfolds across three layers. Concealed doors and drawers gracefully unite to fulfill a myriad of household storage desires, offering a sanctuary for an array of small essentials like books, shoes, and umbrellas. This cabinet stands as a testament to versatility, transforming your living room, hallways, and entryways into havens of uncluttered elegance.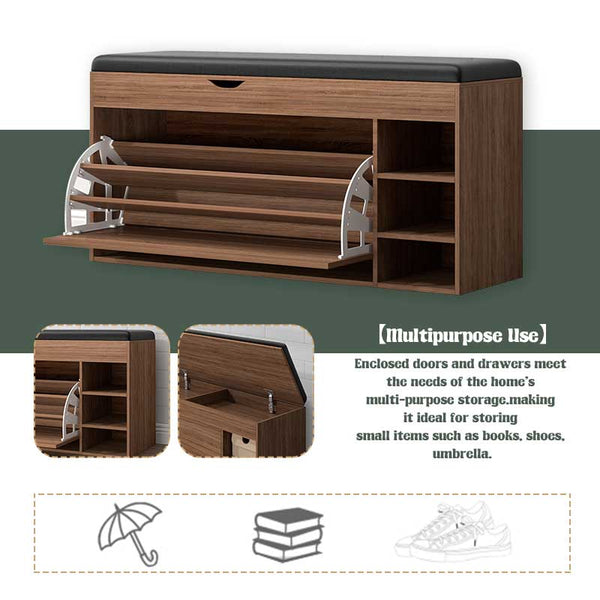 Unveiling Open Multi-Compartment Elegance
Step into a world of organized opulence with our shoe-changing stool, where open multi-compartment storage design reigns supreme. A symphony of practicality, the left side showcases a graceful tipping bucket storage cabinet with ample capacity, catering to your diverse storage requirements. On the right, a well-crafted storage compartment stands ready to embrace other treasures or shoes, offering a canvas of versatility for you to weave your storage dreams upon. Welcome a realm of choices as this design elegantly enhances your daily living.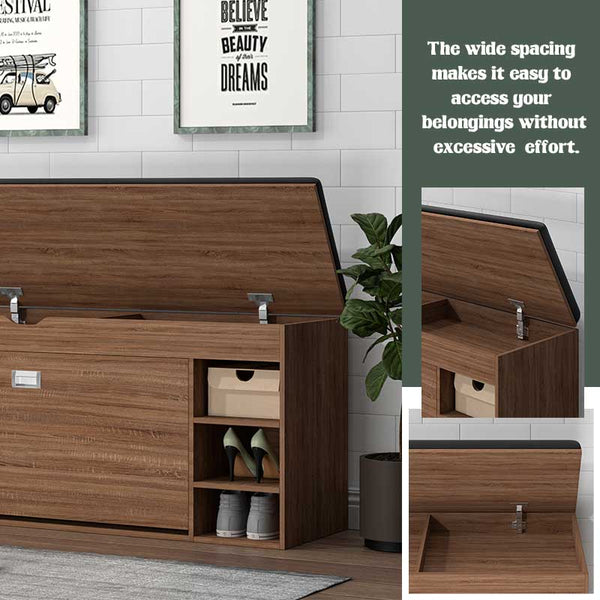 Unwind in Comfortable Seating
Enter a realm of relaxation where you and your loved ones can effortlessly slip on shoes while seated, liberating you from the discomfort of squatting. The removable leather cushion bestows a haven of tranquility and indulgence upon this storage bench. Moreover, this cushion offers a convenience beyond measure - easy detachment for a thorough cleanse. This bench stands resilient against humidity, ensuring its unwavering charm, while its dust-resisting design upholds the elegance of simplicity.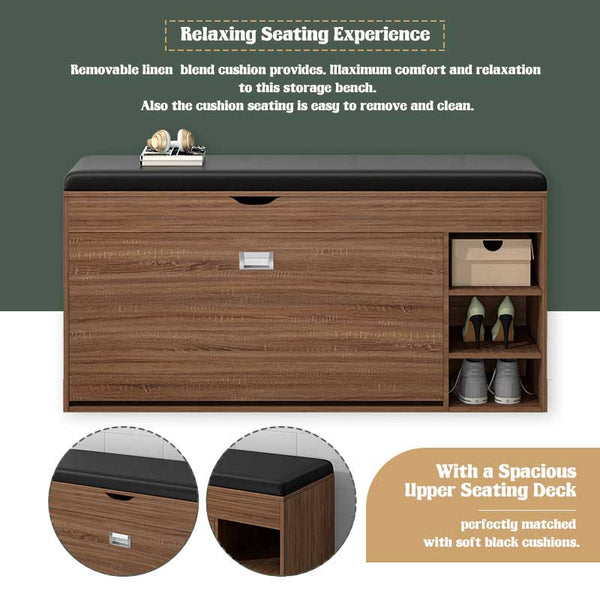 Crafted with Excellence
This storage bench stands as a testament to fine craftsmanship. Its sturdy MDF frame exudes strength and stability, forming a solid foundation. The rest of the bench boasts premium MDF boards, meticulously selected for their high quality. Remarkably, the benchtop showcases a remarkable capability to bear over 170 lbs, seamlessly combining utility with elegance. As a paragon of enduring solidity, this bench is designed to thrive through time, offering steadfast stability that effortlessly bears the weight of heavy burdens.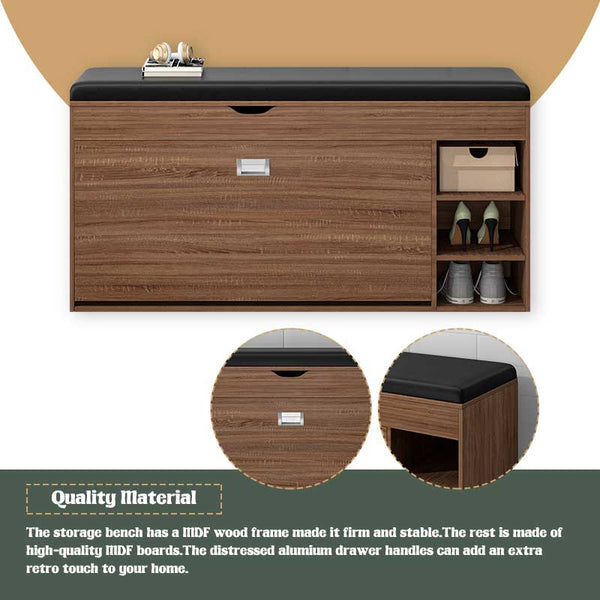 Seamless Assembly & Dimensional Harmony

: 

Embark on an effortless journey as you assemble this versatile and impeccably stylish piece. Designed to whisk you away from the realm of complications, it beckons both the seasoned and the uninitiated to embark on an elegant escapade. Elegance and subtlety converge in this table, ushering in an era of timeless aesthetics that are destined to harmonize with your space.

 
Product Dimensions

Applicable scene:

Entrance area: Place the dump shoe cabinet at the door or entryway, and it will be the first tidy impression when you welcome your guests. At the same time, you can easily change your shoes and get ready to go.
Bedroom or Hallway: Putting a dump shoe cabinet in the bedroom or hallway provides you with a convenient space to sit and change or store your shoes.
Living Room or Study Room: The tipping bucket shoe cabinet can also be used as practical furniture in the living room or study room, adding a sense of neatness to your home.
In short, the tipping bucket shoe cabinet is not only a practical shoe storage solution, but also an ornament that can improve the tidiness of the home. It will help you store your shoes in an orderly manner and make your home space more spacious and tidy. Whether you need to organize a lot of shoes or are looking for a storage solution in a small space, the dump shoe cabinet can meet your needs and make your life more convenient.